Marsellou Tower
At the south of the village the Tower of Marcellos predominates impressively. It is the country house of the doctor and man of letters Theodoros Marcellos.
The Tower of Marcellos is an original residence with an in-built square tower in its forefront. The building of the tower is linked to one of the versions regarding the origin of the village's naming. According to this version, "the naming of the community originates from the existence of towers (Pyrgos in Greek means Tower) on prominent spots around the housing". This is what, according to the residents of the village, was also believed by Marcellos and this is the reason that he built the tower.
Marcellos was born in 1907. Once he graduated from the Pancyprian Gymnasium of Lefkosia, he went to Greece to study medicine. He studied at the Medical School of Athens from where he graduated in 1933. He worked as a doctor in Larnaca until 1983.
In 1940, according to Papageorgiou, "he voluntarily went of Greece to help in the war against the Nazis and fanatics and returned to Cyprus in 1944".
His love for our village was more than obvious. Besides, this is apparent not only by the construction of the "Tower" but also by his active participation in the community's events. Moreover, he was one of the founding members of the Popular Associations of Pyrga.
Marcellos was one of the most important Cypriot men of letters. Papageorgiou writes: "his first presence in literature was with a collection of poems while later he wrote novels and short stories. For his collection of poems named "O kleftis tou spitiou mou (The thief of my house), he was honoured with a state award in 1974, whereas for his novel "Outopia (Utopia)" he was honoured with a praise in 1982".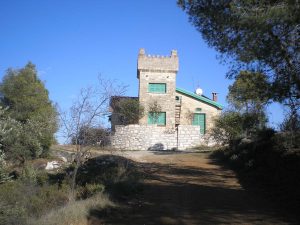 Source:
Costas Papageorgiou, Pyrga, 'Kato apo to vlemma tou Stavrovouniou' (Beneath the sight of Stavrovouni), Lefkosia 2007
Monastery of Panagia Stazousa
Monastery of Agios Modestos
Monastery of Agia Varvara
Church of Agia Aikaterini
Mosque